Vanesa Quiroz als Maria, baart tango na tango
foto: Leo van Velzen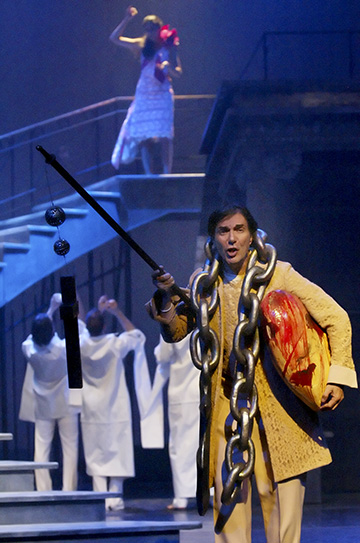 to continue
click on the right arrow


'The choice to use contemporary dance to visualise the music and the libretto works brilliantly. Take for instance the scene in which Maria after her triumph returns to the slums of the city and is awaited by extravagantly dressed madams and pimps. Or the final scene, in which Maria gives birth to one tango after another. A splendid find, just as everything in this production - including the setting and the costumes -  is extraordinarily attractive visually.'
Willem Hoogendoorn in the Haagse Courant,
Brabants Dagblad (GPD)
27 februari 2004




José Angel Trelles
als Cantor




Vanesa Quiroz as Maria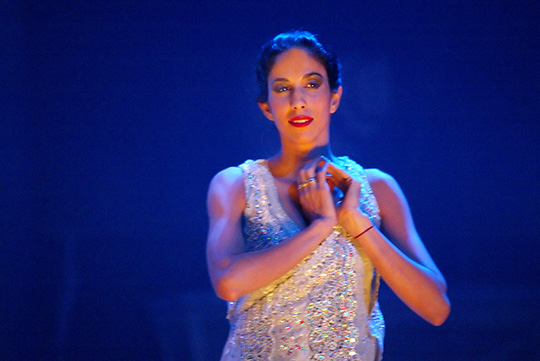 Brent Reilly Turner as Florestan,
members of the Pacific Opera Victoria Chorus

P
Production:
International Performing Arts
Tassy Schmid – General Manager
Conductor: Pablo Ziegler
Director: Wim Trompert
Choreography: Annabelle Lopez Ochoa
Set Design: Eric Goossens
Costume Design: Aziz Bekkaoui
Light Design: Uri Rapaport
Vanesa Quiroz: Maria
José Angel Trelles: Cantor
Juan Vitali: El Duende
Dancers/Chorus
Claudia Jakobsen, Julia Leidhold, Francesca Monti, Agnieszka Obuchowicz, Joaquim  Sabaté, Judit Somorjai, Sam de Belder, Diego Vazques Galindo, Nicolas Turicchia, Alejandro Boned-Reyes, Pim Veulings, Jasmin Rituper
Opening Night Koninklijke Schouwburg The Hague, February 25, 2004
25 performances in The Netherlands and 1 on the Spring Festival in Budapest
A dazzlingly beautiful 'Maria'
[...] Just like in the great South-American novels there are whores, dark taverns, dubious virgins, religion and love; the language is at times bewildering. Poetic and gripping, hallucinating at times, impenetrable and contrived - as though Ferrer took a few too many shots (of LSD perhaps?)
With respect to its drama and composition 'Maria' is nothing out of the ordinary. Considering that, one can only admire the 'Maria' that director Wim Trompert and choreographer Annabelle Lopez Ochoa made for us in this large-scale and frequently dazzling production. Their 'Maria' is spectacular without becoming slick -  for which Piazzolla and Ferrer's material  is simply too unmanageable.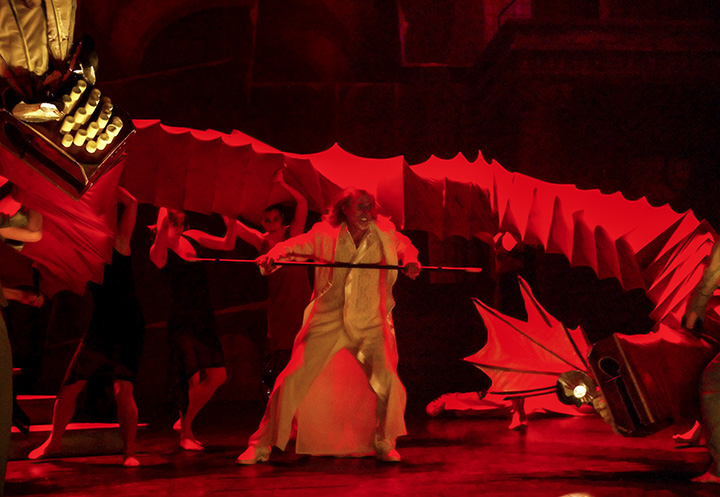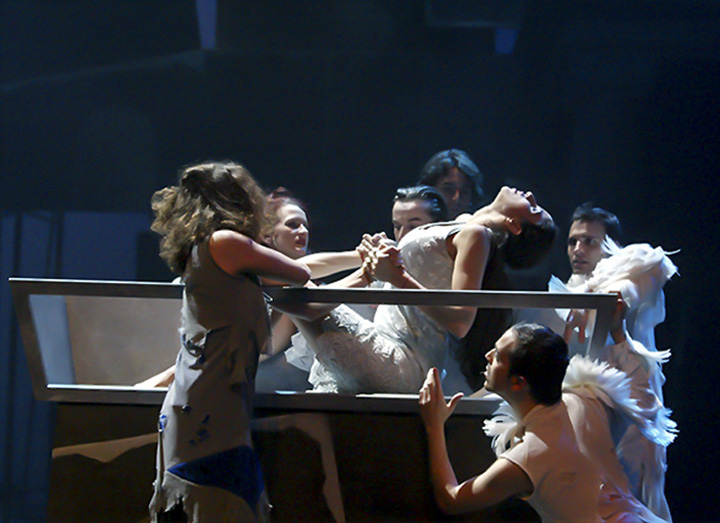 Juan Vitali as El Duende, fighting with a bandoneon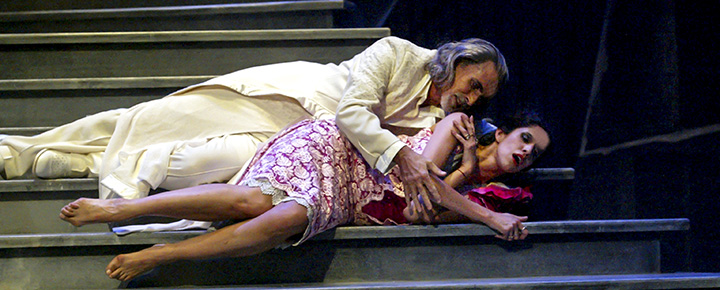 Hier wordt de inhoud voor id "blokje10" weergegeven
Juan Vitali as El Duende dancing a disturbing tango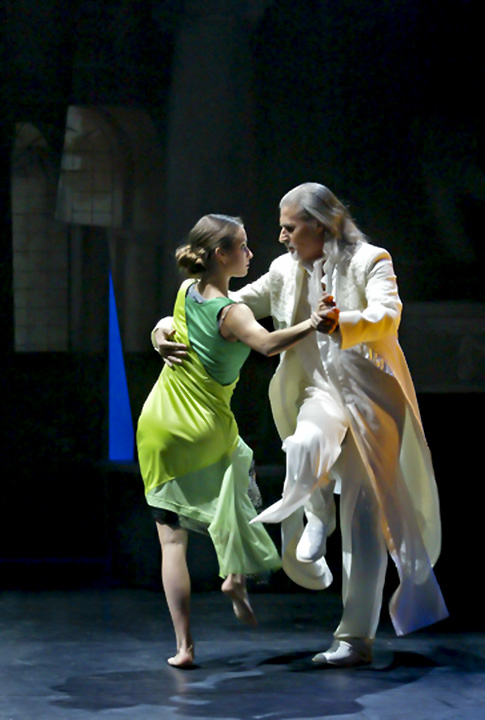 Astor Piazzolla and Horacio Ferrer:
'Maria de Buenos Aires'